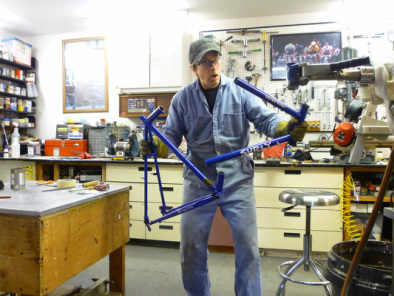 Installing Bicycle Torque Couplings (B.T.C.) or mostly known as S & S couplings. While is sounds crazy. I cut the frame in half and install (weld) the coupling into the frame tubes. This coupling actually makes the Frame stronger and adds a minimal amount of weight. The reason someone pays me to cut their perfectly good frame is for purposes of Traveling. When the bike is "unscrewed" it is able to fit into a 26" x 26" x 10" case which allows you to check your bicycle as regular baggage on a Airplane. This way there is no extra cost to travel with it on a Airplane, Train or a Bus. Also, I can't tell you how many times I've been saved traveling with friends and family when we ran out of room for all the bikes. The S & S couplings have saved the day many times on road trips in the car or Van. Cost is $499.oo for the basic coupling installation. This is for two couplings. It comes with "patch paint covering". The area painting actually looks very good as you can see in the slide show below. A "perfect paint matching" Starts at $250.oo +.

---
---
Here are a few examples of some of the frames that I've installed S & S couplings on.-- Enjoy !
---
Here is a look at the packing sequence using a S & S case -- Click on the link above to get more views on The S & S machine web site of how to pack your bike in a 26" x 26" x 10" case.

---
Here's a Video By Frame builder Lenard Zinn showing you how to pack your Bike in a S & S Case.

---
---
Paint Jobs and Repairs

---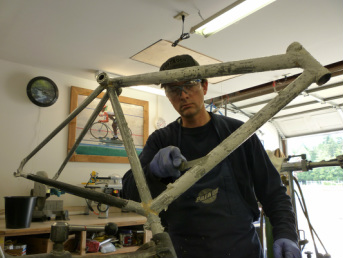 When people ask if I paint Bike frames - Jokingly respond - No I sand them. or I'm a sander not a painter. 80% or more of the time I spend repainting a Bike is spent scraping off the old paint. Sand blasting and sanding in between coats of paint. But that's what it takes to produce a good paint job. -- Prices generally start out at about 399.oo and go up from there. To see a step by step documentation of what I do to get a good paint job done -- Visit my Face book page "Cycles LaMoure" here's a link below --

---
---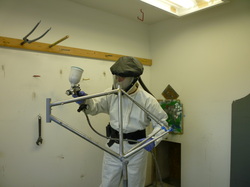 I'm Not sure how many paint jobs I've done but I if I was to guess, it would be well over a 1000. I really like the painting part. The final Product is very rewarding.
Below are just a few of the frames I took the time to take pictures of. I can't seem to remember two that where the same.
-- Enjoy !
---
---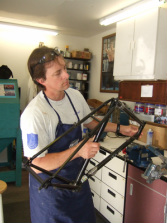 My Personal 100% Guarantee For Paint Jobs :
With any paint job I've done, if for any reason you do not like it, I will redo the paint job until you are happy with the Finished product....Mitch LaMoure
---
---