Handcrafted by Bicycle Frame builder Mitch LaMoure -Call me @ 360-477-0257

---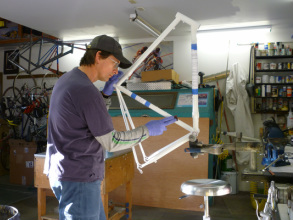 All lugged or lug less frames are one of a kind custom creations. No two frames are a like. They all vary in cost from $1700.oo to $3000. or more depending on what braze on's or paint scheme's you want. The more taping of lugs or colors on the frame adds to the cost. I do 100% of the work on each frame myself. From the design, the fabrication to the painting. No one but myself works on your bike. I will (and prefer to) assemble all the parts on the bike as well. This insures that everything works as it should and fits the frame correctly.
---
---
My Tubing choices vary from frame to frame but I find myself building with True Temper tubing the most. Columbus is also a favorite. I've recently started building some Stainless Steel frames using KVA Stainless. I find it very easy to work with. Unlike Reynolds 953 Stainless the tubing sizes are more consistent and machine much better too! KVA is an American company and is much easier to get product from.

---
A Lugged Frame is where art meets function -- The artist in me loves to build Lugged Bicycles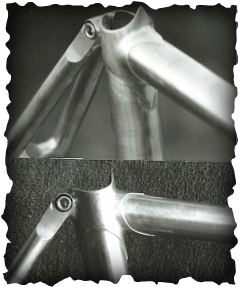 When I first started building bicycle frame in 1983 most all bike frames from the cheapo $100 bikes to the $1000 Bicycles frames were built with lugs. While there were many frame builders using investment cast Cinelli or Henry James Lugs. It wasn't until the past few years when lugged frames made a come back that a lot of very nice investment cast lugs became available. Today Chromoly steel tubing technology has improved so much that even with over sized tube sets and investment cast lugs a Frame builder can build very light and stronger frames than in past days. Now you can ride a work of art that is light and fast.

---
---
Here are a few examples of some of the Lugged frames I have built below --- Enjoy !

---
---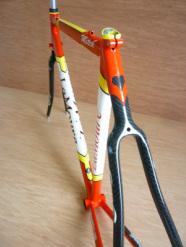 Lug less frames were originally used when lugs could not be use do to odd angles. They allow a great amount of versatility for builders. These frames tend to be lighter than lugged frames and are fillet brazed, with brass. Then filed down by hand and hand sanded into a smooth blended joint. Many who see a modern light weight Over sized chromoly frame think they are made of carbon fiber or aluminum. Many are under 3 lbs. They are stiff and have a quick snappy feeling when riding hard. A ride that carbon fiber and aluminum still can't match. Full bikes can be in the 16 lbs range, or less.

---
---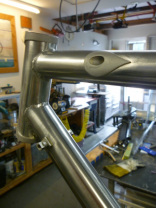 Today most lug less frames are tig welded and can be very light. In fact some Tig welded Stainless Steel frame or Titanium frames are near 2 .5 lbs. Tig welding is a art. To get the weld bead to look even and smooth takes hundreds of hours. To gain this skill one must have a very steady hand. Few Bicycle Frame builders have this skill. Depending on the tubing choice and Components picked for the bike, some bikes can in the 14 to 17 lbs range.

---
---
---
Here are a few examples of some of the Lug less frames I have built below --- Enjoy !
---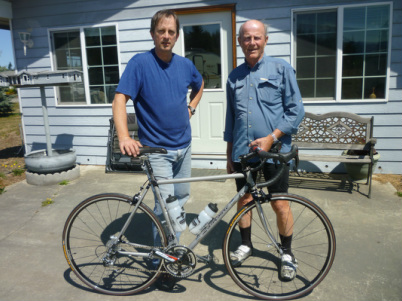 My Personal 100% Guarantee For Frames :
If for any reason you are not happy with the Frame I build you, Let me know within 60 days (or so) and I will build you another frame with the changes you want. At no extra charge. You may continue to ride the first frame (if you choose) and Return the first frame after having received the new replacement frame. If you are still not happy with my frame I will refund your entire amount of the Frame you paid. I will take the hit on the shipping and will pay for the shipping both ways.... I want you to LOVE my Frames as much as I loved creating them.
--- Mitch LaMoure ---

---
---
My Personal 100% Guarantee For Paint Jobs :
With any paint job I've done, if for any reason you do not like it, I will redo the paint job until you are happy with the Finished product....Mitch LaMoure
---