To contact me (Mitch) it's Best to call on the phone 360-477-0257 ... I do better
answering the Phone rather than Emails -- Just remember I'm a one man show
and if I don't get to the Phone right away it's because I'm right in the middle of
welding or cutting. I will call back most times before you can finish leaving me a
message.
Here's my E-Mail address it is: mitch@lamourebikes.com (copy and paste or use the form below)

---
Stop by the Shop Any time -- Give me a call I'
ll make sure
I'm there. 360-477-0257 - I might be on a ride or running errands. Shop address is 1684 Finn Hall Rd. -- (11 mile east of Port Angeles)
---
Frame Prices :

A good way to figure the basic cost of my frames is to add up the cost options below:

Basic Labor for frames : $ 1200.oo - 2500.oo. (Labor) - This would include 2, H2o Braze on's - Cable and brake guides and a one basic color paint Job. (Some reds or exotic colors cost me $150 - $400 a Pint).

Second color add : 75.oo - 150.oo (cost of paint varies with color)

Each Extra braze on $35.oo (Labor)

Tubing cost + Braze on Parts. Chromoly parts run $150.oo - $500.oo , Stainless $700 - $1500.oo
Steel Forks - $175.oo - 300.oo (Labor)
Cost of Fork parts - $75.oo - 150.oo (in most cases).
Carbon Forks $150.oo - $400.oo (call for prices)
Internal cable guides $150.oo to $300.
Prices - Frame Painting and Repair :
Tube replacement - $175 - $300.oo per tube (Plus cost of the tube type)
Dent removal - $50 - $100.oo

Braze-ons $35 - $50.oo per item - (Plus cost of braze-ons part)
Dropout replacement - $100.oo - $250 (Plus cost of Dropout)
Paint removal - $100.oo (Entire Frame)
One color paint - $299.oo (includes clear coat)
Super Pro Paint Finish - 499.oo - The Super Pro Finish requires sanding the clear coat with 400gr then 600gr sandpaper. This takes about 6hrs. Then repainting with another clear coat.
Second added color - $100.oo - $150.oo ( Cost depends on paint brand and color)
Taping of lugs - $50.oo per lug
Powder Coatings - $150.oo - $250.oo -- (Cost varies mostly on how much clean up and prep work needs to be done before Powder coating)
If Parts are left on a frame I charge to remove those parts - (Usually a head set or Bottom Bracket) Shop Labor rate is $40.oo per hour. Generally $10.oo - 20.oo for B/B or Headset.
Full Bike disassembled $80.oo
Parts Cleaning and installation on a frame -$150.oo (Plus extra parts IE: cables and housing)
New Parts Build up on New or repaired frame $125.oo



---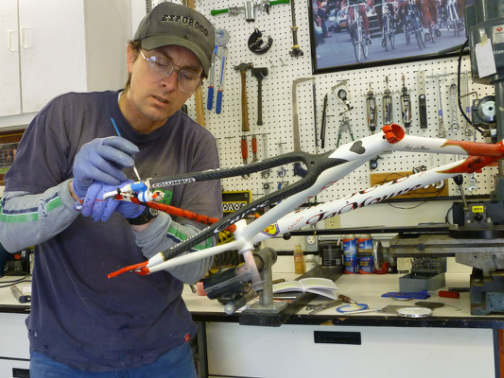 My Personal 100% Guarantee For Frames :
If for any reason you are not happy with the Frame I build you, Let me know within 60 days (or so) and I will build you another frame with the changes you want. At no extra charge. You may continue to ride the first frame (if you choose) and Return the first frame after having received the new replacement frame. If you are still not happy with my frame I will refund your entire amount of the Frame you paid. I will take the hit on the shipping and will pay for the shipping both ways.... I want you to love My Frames as Much as I love creating them. --- Mitch LaMoure ---

---
---
Personal 100% Guarantee For Paint Jobs :
With any paint job I've done, if for any reason you do not like it, I will redo the paint job until you are happy with the Finished product....Mitch LaMoure
---